Best Grape Seed Extract Brand in the Philippines: Bona Vita Philippines
Grape seed extract is made after the grape wine-making process has finished. The seeds are first extracted and then left out to dry. These are usually bitter in taste, which is why they have to be further processed into powder form and in turn, into soft gel capsules. Known for its numerous properties, grape seed extract has become a popular food supplement among health-conscious individuals. To ensure that you get the most effective grape seed oil supplement in the market, trust only the best grape seed extract brand in the Philippines — Bona Vita Philippines.
Bona Vita Philippines' Grape Seed Oil Extract is 100% organic and all-natural, making this one of the healthiest supplements that you can find in the market. Each 1000mg soft gel capsule has 50x higher potency than leading supplements, like Vitamin E, and Vitamin C. It's also rich in healthy fats and oils, such as Omega 3, 6, and 9, for a complete health supplement. Read on to learn more about the best grape seed extract brand in the Philippines!
Organic Grape Seed Extract Supplement in The Philippines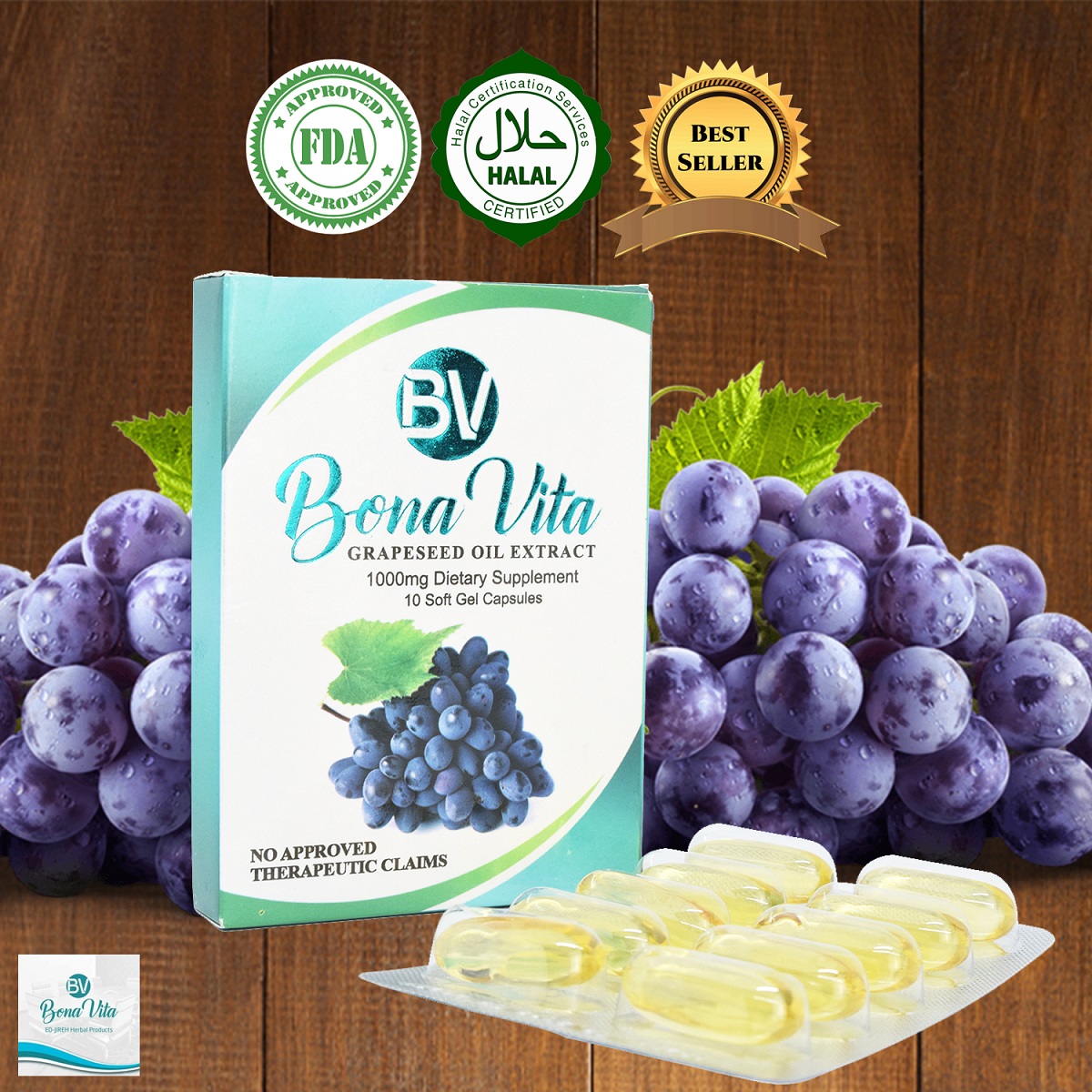 Bona Vita Grape Seed Oil Extract — the best grape seed extract brand in the Philippines is not just your everyday health supplement. It goes beyond just making sure that your body gets its recommended intake of all essential vitamins and nutrients. Instead, the Bona Vita Grape Seed Oil Extract takes it up a notch by offering numerous benefits for health and physical appearance.
Consistently taking 100mg daily of the best grape seed extract brand in the Philippines can help soften your skin, restore hair growth, boost immunity, improve vision, regulate blood pressure, eliminate wrinkles, and a whole other list of anti-inflammatory properties. While grape seed oil extract is meant to be taken as a food supplement, there's nothing wrong with crushing the soft gels and directly applying them to your skin to treat the conditions above. Check them out!
Softens and Brightens Skin
Grape seed oil extract is excellent in softening and brightening your skin. If you're not a fan of so-called skin whitening products, grape seed oil is a great alternative. Unlike sunblock, it doesn't irritate the skin due to its natural ingredients. It's also chemical-free, making it suitable for all types of skins.
To apply, simply squeeze the gel until the oil extract is released on the affected portion. The extract contains astringent which helps tone, soften, and brighten your skin. You can also do this as another step in your daily skin regimen for the best results.
Promotes Hair Growth
When you're using the best grape seed extract brand in the Philippines, you expect it to give you a number of benefits. Aside from keeping your skin healthy, grape seed extract also promotes hair growth, especially for people who are experiencing hair loss, thinning of hair, or dandruff.
You can benefit from this in two ways — by taking a soft gel or applying it directly to your scalp. Either way, grape seed extract is effective in facilitating the growth of hair growth cells through OPC, which is an antioxidant. By slowing down the rate of hair loss and eliminating dandruff, your hair will restore its former look. It can also maintain its lush and shine for many years to come.
Boosts Immunity
As mentioned before, grape seed oil extract has more potency compared to Vitamin C — a naturally-occurring antioxidant found in citrus fruits and other vegetables. These antioxidants are helpful in boosting the immune system and improve your body's defenses against pains and illnesses, like diarrhea, fatigue, infections, and the like.
Coupled with fruits like lemons, oranges, papaya, or pineapple, taking a capsule of the best grape seed extract brand in the Philippines can easily boost your immune system and help your body combat different infections and body pains.
Helps Restore Vision
According to a recent study by the Department of Health (DOH), more than 500,000 Filipinos experience blindness in both eyes, with more than 60% of these cases caused by cataracts. Bad eyesight is an issue that plagues us as we age, which is why buying the best grape seed extract brand in the Philippines can help us restore healthy vision.
Grape seed oil contains many antioxidants and anti-inflammatory minerals that help maintain clear vision and proper eyesight even as we grow older. Aside from fighting cataracts, grape seed oil can also combat Age-Related Macular Degeneration that's usually experienced by people over the age of 50.
Regulates Blood Pressure
In early 2020, the Philippine Heart Association conducted a survey on the most common diseases experienced by patients who were confined in hospitals. The results showed that hypertension or high blood pressure was the most common health concern, with more than 38% of patients exhibiting this illness.
High blood pressure patients have to control their blood pressure by going on a diet, exercising, and avoiding fatty and high-carb foods that may be responsible for damaged blood vessels, stroke, heart attacks, and a range of other cardiovascular diseases.
Taking supplements, such as grape seed extract also helps in significantly lowering blood pressure by almost 6% (for a 300mg capsule). If you or someone you know is trying to regulate our blood pressure, buying them the best grape seed extract brand in the Philippines can go a long way in keeping them healthy and well.
Treats Acne
Acne is a condition that happens when sebum enters the pores of your skin and gets bacterial inflammation. More than just a painful sore found on the cheeks, forehead, shoulders, chest, or upper back area, the bacteria in acne can spread and proliferate in these areas, which can be unsightly for the individual.
Grape seed oil extract is the perfect addition to an acne-free lifestyle, due to its abundant linoleic acid content. This substance essentially serves as your skin's building block, keeping it moisturized and soft. For acne, it helps unclog your pores, preventing sebum from causing skin infections and keeping your skin flawlessly perfect.
Leading Organic Health Products Distributor in The Philippines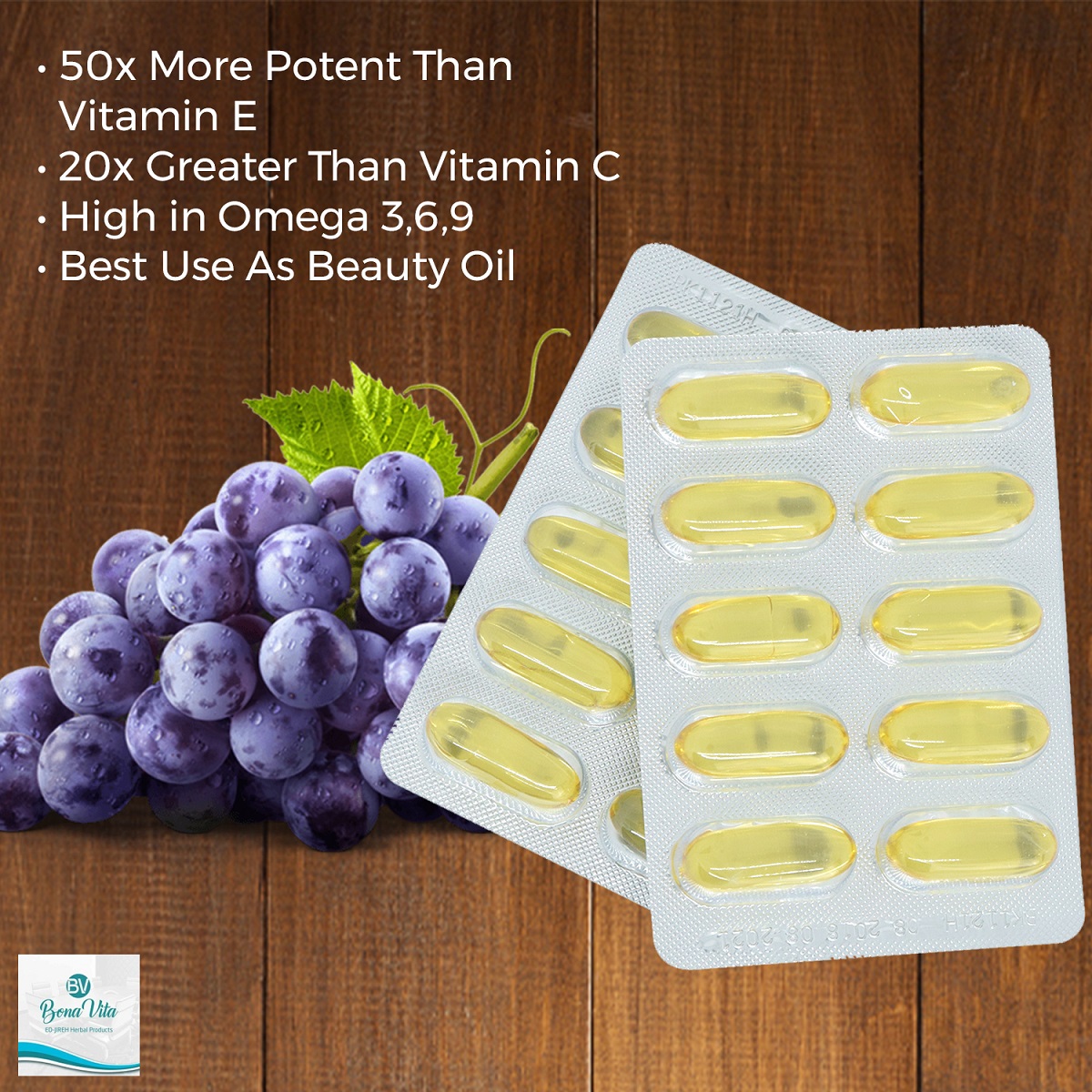 Bona Vita Philippines has made it its mission to develop not only the best grape seed extract brand in the Philippines but also a range of other organic food supplements that everyone can enjoy, both locally and globally. As we continue to become the leading organic health products distributor in the Philippines, we will always set the standard for innovative products that enjoy nationwide distribution, as well as global export. Manufactured in the USA and distributed across the globe, Bona Vita Philippines' organic health products remain unmatched when it comes to giving every individual the chance to experience the good life.
Innovative Products
More than just our best grape seed extract brand in the Philippines, Bona Vita Philippines also has a range of other supplement and drink-based products. You can purchase the Bona Vita 8-in-1 Coffee which boasts 8 all-natural ingredients, vitamins, and minerals.
On the other hand, those with a sweet tooth can try out the Bona Vita Choco 8-in-1 — our own version of creamy and delicious chocolate with a healthy twist.
And if you're meticulous about your skincare routine, then the Bona Vita Collagen Drink is the right choice. It provides your skin and body with everything it needs — from fat-trimming L-carnitine to skin whitening Collagen — all in a convenient powder form that you can mix with your favorite beverages.
Caters to Local and International Markets
The best grape seed extract brand in the Philippines doesn't just hope to be a force to be reckoned with in the country — we also want to cater to other markets, which is why we have tailor-fit our products for both the local and international scene.
From our brand alone, Bona Vita Philippines, you can already get an idea of your goal — to provide the Good Life for each of our customers through natural products that contain immunity-boosting, vitamin-rich, and mineral-abundant ingredients.
Distributes Nationwide
Here in the Philippines, we believe that everyone, no matter where they are, should gain access to the best and most effective health products. Although our main office is situated in Mandaluyong City, we have made it possible to have our products ready for nationwide distribution wherever and whenever you are. With our organic health products, achieving the good life is only just a few clicks away.
Buy Health and Organic Supplements from The Best Grape Seed Extract Brand in The Philippines: Bona Vita Philippines!
As the most reputable organic food supplement supplier in the Philippines, Bona Vita Philippines focuses on crafting high-quality and beneficial health products that appeal to both the local and international markets. Our flagship brands, the Bona Vita Grape Seed Oil Extract, Bona Vita 8-in-1 Coffee, Bona Vita Choco 8-in-1, and our Bona Vita Collagen Powder Drink in the Philippines, best other food supplements in the market.
Staying true to our branding "Bona Vita" or the Good Life in Italian, our company is driven by improving the health and well-being of every single one of our customers.
Curious to learn more? Check out our brand new e-commerce shop here where you can find the right health supplement selections for you. You may also contact us for more information.