Best Grapeseed Oil In The Philippines from Bona Vita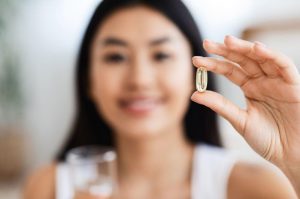 These days, it seems like there are plenty of new oils being touted by influencers and celebs alike as the next big thing for beauty. But perhaps the best grapeseed oil in the Philippines is the one from Bona Vita.
Unlike other oils that tend to suit certain skin types or cause problems for the pores, Bona Vita's grapeseed oil is made from grape seed extract and can be used by anyone, even those with sensitive and acne-prone skin! Our grapeseed oil also contains many great nutrients that can help with a variety of skin concerns. Here's everything you need to know about grapeseed oil: the benefits, how it's made, and where to get such a multi-talented beauty product.
What Is Grapeseed Oil?
The best grapeseed oil in the Philippines is a byproduct of winemaking. After grapes are pressed to make wine, their seeds are left behind. Oil is then extracted from these seeds to make use of all the nutrients and beneficial fats it contains to create an all-natural beauty product. This product can be ingested, or applied to your skin as part of your beauty regimen.
What Are The Benefits Of Using Grapeseed Oil?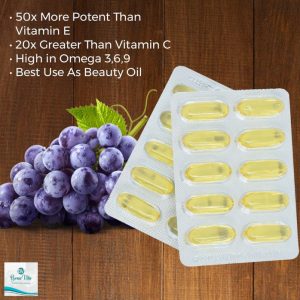 Grapeseed oil is packed with health-boosting nutrients, which provide numerous benefits for those who use them.
Rich in antioxidants
The antioxidants found in the best grapeseed oil in the Philippines — vitamin C, vitamin E, and proanthocyanidin — are powerful allies in the continuous fight against damaging free radicals. This is especially important for your skin.
Free radical damage to your skin cells can cause early signs of aging, such as fine lines and wrinkles. By using grapeseed oil in the Philippines, you can protect your skin from more serious conditions caused by free radicals, such as skin cancer.
Treats acne outbreaks
Another benefit of grapeseed oil is that it is an antifungal and antimicrobial substance, which makes it ideal for people who constantly deal with acne problems. When applying grapeseed oil to your skin, it can get deep into your pores and attack bacteria that cause acne breakouts, resulting in clearer, healthier skin.
Grapeseed oil in the Philippines also contains high levels of linoleic acid, an omega-6 fatty acid that can help control acne by decreasing the risk of clogged pores. And, as a bonus, it also contains vitamin E, which can lessen the appearance of acne scars!
Makes skin soft and smooth
A great beauty benefit of grapeseed oil comes from all the fatty acids it carries. These compounds are ultra-hydrating, which helps protect your skin from dryness and flakiness. Fatty acids also promote support collagen production in the skin, allowing it to properly form and rebuild itself in your skin. As a result, grapeseed oil can treat dullness and sagging, and give your skin that youthful bounce and glow.
Evens out skin tone
The best grapeseed oil in the Philippines contains an antioxidant called proanthocyanidin. This is a powerful nutrient that can help even out skin tone, especially when applied or taken consistently. In fact, taking grape seed extracts can improve serious discoloration caused by conditions like melasma.
Protects your skin from the sun
Due to its high vitamin E and omega-6 content, another benefit of grapeseed oil is it can protect your skin from the sun's harsh UV rays. UV rays can really take a toll on your skin and can cause early skin aging, dry skin, and discoloration. Luckily, taking the best grapeseed oil in the Philippines can help your skin actively fight off such effects, and make your skin more robust and healthy.
Reduces redness and irritation
Grapeseed oil contains many hydrating and soothing nutrients and compounds that actively reduce inflammation in the skin. It is an especially promising treatment for those with sensitive skin. It may even soothe those with inflammatory conditions, such as eczema. The redness, itching, and burning sensations that come with such conditions may be soothed and reduced when grape seed extract is applied directly to the affected areas.
How Do I Use Grapeseed Oil from Bona Vita?
Now that you know all the benefits you can receive, you may be wondering how this miracle beauty product is used. The best grapeseed oil in the Philippines, made by Bona Vita, can be used in two ways!
As a supplement
Grapeseed oil is typically found in concentrated forms, to provide the highest amount of beneficial vitamins and fatty acids possible. At Bona Vita, our best grapeseed oil in the Philippines is sold in a soft gel capsule, which you can ingest three times a day after every meal.
As a topical oil
You can also apply our best grapeseed oil in the Philippines directly to your skin! Its soft gel capsule is easy to prick open, and you can then apply the oil to your face. It's easily absorbable, so it makes a quick and convenient addition to any beauty routine. Plus, it won't leave a sticky or greasy feeling!
When applying topically, we recommend applying this grapeseed oil when you normally do your skincare regimen. Apply it to your face after washing it thoroughly with your cleaner of choice.
Where Can I Buy The Best Grapeseed Oil In The Philippines?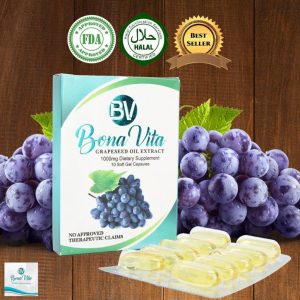 So where exactly can you get the best grapeseed oil in the Philippines? These are available to order at Bona Vita's website, Lazada store, and official Facebook page!
Worried about the grape seed extract price in the Philippines? Don't fret — our products are always priced affordably. Our grapeseed oil is available at ₱200.00 for one pack. You can also avail of our get 5, get 1 free promo for only ₱1,000.00!
Achieve Happier, Healthier Skin With The Best Grapeseed Oil In The Philippines From Bona Vita!
Pamper and protect your skin the right way with the best grapeseed oil in the Philippines, made with care by Bona Vita! With its featured benefits, it's a foolproof addition to any skin routine. Buy some now from our online stores, and experience glowing, soft, and youthful skin in no time!