Sale!
Bona Vita 8-in-1 Coffee
₱200.00 – ₱10,000.00
Bona Vita 8-in-1 Coffee offers a multitude of benefits, including being an anti-oxidant, helping to lower blood pressure, reducing cholesterol and boosting the immune system.

Free Shipping

Cash On Delivery

Sweetened with Steviol Glycosides

FDA Approved
🍊Mangosteen
Mangosteen is a good source of vitamin C and provides about 12% of RDA per 100 g. Vitamin-C is a powerful water soluble antioxidant. Consumption of fruits rich in vitamin-C helps the human body develop resistance against viral-flu and help scavenge harmful, pro-inflammatory free-radicals. MANGOSTEEN fruit is a moderate source of B-complex vitamins such as thiamin, niacin and folates. These vitamins are acting as cofactors that help the body metabolize carbohydrates, protein, and fats. Further, it also contains a very good amount of minerals like copper, manganese and magnesium. Potassium is an important component of cell and body fluids and helps control heart rate, and blood pressure, thus, it offers protection against stroke and coronary heart diseases.
🍐Guyabano
Guyabano is known to be rich in vitamin C and B vitamins thiamin, riboflavin and niacin, but here is a fuller list of what the fruit has to offer.
Vitamin C, Iron, Riboflavin, Phosphorus, Thiamine, Calcium, Carbohydrates, Niacin and Fiber
🍃Moringa (Malunggay)
Moringa has been used for centuries due to its medicinal properties and health benefits. It also has antifungal, antiviral, antidepressant, and anti-inflammatory properties.
🌿Ganoderma
GANODERMA – Immune-stimulation provides relief from sleeplessness, alleviates anxiety, pain and headaches, slows the aging process, helps prolong human life, detoxifies the body, reduces blood pressure, eliminates inflammation, prevents cancer, improves cognitive ability, elevates energy level, To treat HIV and AIDS, To treat fatigue, To reduce inflammation, To treat lower urinary tract symptoms … and MORE! – WIN THE FIGHT AGAINST CANCER!​
🍇Acai Berry
Acai berries can be a tremendously healthy addition to your diet, and helps to increase heart health, aids in weight loss, as well as aiding in health issues relating to your skin, digestion, allergies, immune system, and energy levels. Furthermore, research has shown it to be one of the best sources of antioxidants, an aphrodisiac, a brain booster, and a great weapon against premature aging, cancer, and unexplained fatigue or exhaustion. Overall, this miraculous little berry can have a huge impact on your health and happiness!
🎋Sweetened w/ STEVIA (means NO SUGAR!)
Stevia, a natural sweetener with proven health benefits, is a green leafy plant that grows in South America. It's a 100% all-natural zero calorie sweetener with two major sweet compounds called Stevioside and Rebaudioside A; and serves as a healthier alternative to refined sugar.
☕ Anti-Oxidant
☕ Lowers blood pressure
☕ Reduces cholesterol
☕ Boosts Immune System
☕ Prevents Cancer
☕ Anti-inflammatory
☕ Repair cells
☕ Boosts energy level
☕ Anti-aging
☕ Prevents UTI
☕ Improves bone health
☕ Protects Liver
☕ Prevents Constipation
☕ Reduce blood sugar
☕ Help burn fat
☕ Prevents prostate cancer
☕ Promotes skin health
☕ Supports Brain Health
☕ Protects the Kidney
☕ Cleans colon
☕ Protects from Stroke and Heart diseases
☕ Relieves Migraine and Headaches
☕ NO Sugar (Stevia Only –Organic Sweetener)
☕ NOT Acidic
☕ NO Palpitation
☕ NO Overdose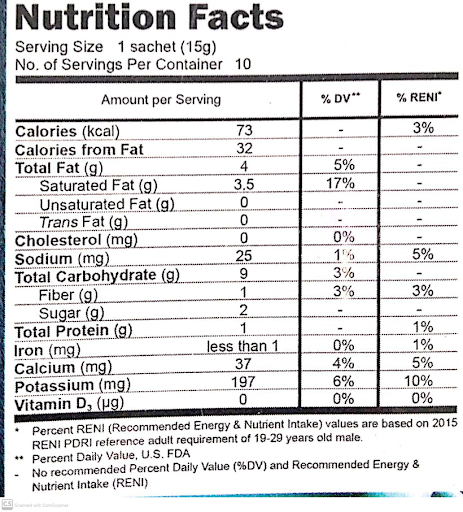 Hot
Empty contents of one sachet into cup, Add hot water (approx 150ml), stir well and serve.
Cold
dissolve contents of one sachet in a small amount of hot water. Fill cup/glass with cold/tap water (up to 150ml) Stir well. Add ice and serve.
Storage Condition
Store in a cool dry place away from direct sunlight, moisture and heat.
Precaution
Not recommended for: children age 3 and below, pregnant and lactating women, people with lactose intolerance